Category Archives:
Ambassador
Remember this Peugeot 206 commercial from 2003? Giovanni Porro and Euro RSCG made this hilarious advertisement about young Indian man trying to rebuild an Ambassador. It actually won the Gold Lion for best advertisement then. Forget about the underlying stereotyping about India. Let us explain why it is ultimately a deeply tragic story.
(more…)
Wanna look awesome driving an exclusive 1950s ride? Let's assume you can't afford a Jaguar XK150 or a gullwing Mercedes. You may want something more exotic than a Volkswagen Beetle. We've got just the right solution for you: The Hindustan Ambassador!
Perhaps more emphasis on the exotic and less on the exclusive part. The Morris Oxford III the Ambassador was based on was never really an exclusive model to begin with. Hindustan Motors made the construction even more simple, if possible. There have been over 4 million of them made over 50 years. Until the late 1980s they represented the overwhelming majority of all cars in India. So what's cool about them? Well, the feeling. They just are!
Driving a Hindustan Ambassador gives you a sense of accomplishment, for a start. Forget power steering, soft pedals. You have to struggle to force your will on it. It couldn't even dream about stars in an NCAP crash test. Everything on it is crude and simple. I imagine it is what riding a dragon to battle must feel like. Except the power.
Wheels for the Masses
The model's characteristics were acceptable in 1956, but 50 horsepowers for a ton-and-half car weren't quite cutting edge then, either. You needed a high fever to be dazed by 0-100 km/h in 32.5 seconds, not to mention then stopping with the crude brakes. But it was easy and relatively cheap to produce. Fifties cars were really designed to last. Everything could be repaired.
Between 1958 and 2014 the model was manifactured continously. The 6 generations of Hindustan Ambassadors only got minor facelifts and less obsolete engines over time. This might actually be more than just stinginess: Parts were interchangeable, therefore always available. A reliable, mass produced simple car, perfect for a developing country. As India's economy gradually surpassed this stage, the Hindustan Ambassador was slowly phased out.
Decline of the Amby
There are still millions of it on the road, but production was stopped in 2014. By then the competition was just too much. Sales had been dropping since the mid-eighties, when market-protecting legislation was lifted. The last Hindustan Ambassador models were a desperate attempt to go with the times, but quality and competitive price just didn't work with the 60-year old design.
Indian state officials using Hindustan Ambassador cars is a commendable support of home industry, but.. The car's neither comfortable, nor was ever a luxury model. The Morris Oxford was a middle-sized family car to begin with. Why do we say it's still a cool car?
Why You Will Fall in Love with the Hindustan Ambassador
The Hindustan Ambassador has a certain dignified elegance to it. It was designed when "beautiful" design was meant in a lot more timeless, conventional sense. Nice curves, chrome – style will never go out of fashion. It's a man's car – a beautiful, but whimsical and stubborn lady. You'll love her with all her faults. And the best thing about it: You can drive it in India!
Pulling up in Indian traffic with a Hindustan Ambassador most be like riding on one's first rodeo. You'll be terrified at first. But as you are getting used to it, sore muscles will ease up (with a Hindustan Ambassador that's not only a figure of speech!) it's a rush of adrenaline that causes strong addiction. Side effects may include:
-You'll want to go back and do it again, right away
-You'll want your own for home
-You won't shut up about it, driving everybody mad
-You keep showing everyone photos about it
You've been warned.
It's been just over a year since Hindustan Motors closed their doors and the iconic Ambassador car ceased production, but for 40 million Indian rupees, you could get a high-tech gold recreation of the famed Indian car.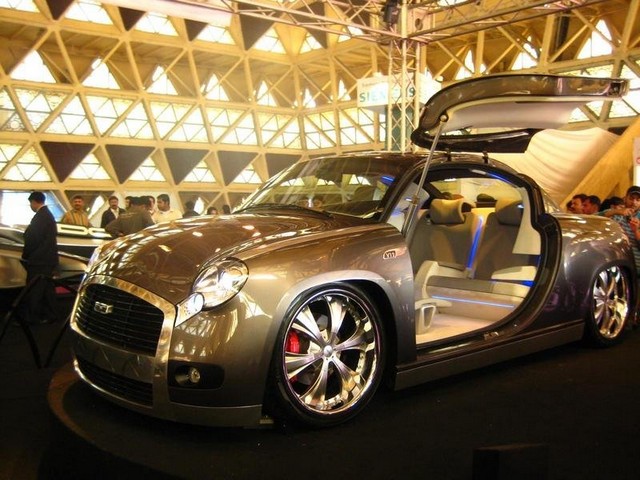 Since the Ambassador only went off the market in 2014, the car might not have classic or vintage status in the official books, but, love it or hate it, to many in India the Amby was a proud symbol of the country's unique car culture.
Introducing the DC Ambierod
Even before the Amby ceased production, it was a car that went on to inspire some of India's most cutting edge motor designers, like DC Designs. The DC Ambierod, think the love child of the Ambassador car with the American Hot Rod – vintage on the outside, luxury on the inside – made its debut at the 2008 Auto Expo in New Delhi. The super-luxury car carries elements of Knight Rider with an epic dash of golden or metallic bling in its paintwork and is touted as the most expensive car to have ever been featured at the Expo.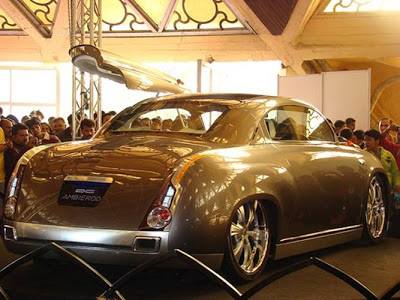 Costing at Rs. 40,000 (USD 1 million), you might need the bank balance of Shah Rukh Khan or Rajinikanth Superstar to buy one, and the skills of James Bond to operate one, not to mention the golden Amby is unlikely to be manufactured on an industrial level.
The luxury car is equipped with an automated instrumental panel backed by a satellite navigation system, a rear vision camera, three LCD televisions, as well as internet and videoconferencing-enabled flat bed and multicolored mood lighting. This retro-futuristic car has been hyped up as being intelligent, but despite the fancy interior, it's design is still inspired by the humble Ambassador car.
Nothing Beats the Original Ambassador Car
At Chennai Garage we might not be able to promise you LCD TV sets in your car, but if you want to give your Ambassador car a golden makeover we can definitely help you pimp your Amby.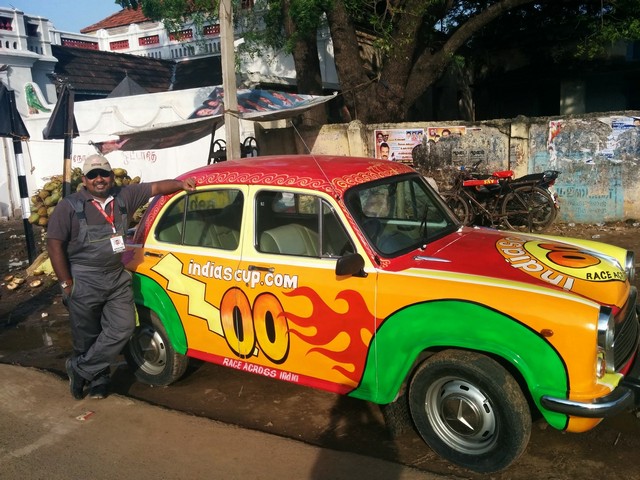 Personally, we feel that original is best, and while the DC Ambierod does look awesome, we still have a special place in our hearts for the classic Hindustan Ambassador. If you're feeling nostalgic, then hit us up, and we can help you buy or rent an Ambassador car – we can even paint it gold if you want!